Welcome to Aff-Shore.com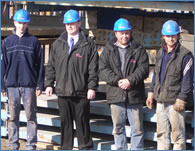 Aff-Shore is a young, dynamic company, with personnel that have had many years of experience in all the applications of the shoring industry.

Aff-Shore is a supplier of new and used material for Civil Engineering, Construction and Building Industry.

Aff-Shore is the place to go for an affordable option for the Sale and Hire of new and used materials.


---
Our Aim
We are committed to providing highest level of customer service within the Civil Engineering, Construction and Building industry.

With years of experience in the business, our expertise is second to none.







Free, cheap web hosting by FreeVirtualServers


Trench Box's
Mini Trench Box's
Back Hoe Box's
Magnum Trench Box's
Manhole Box's
Manhole Shutters
Trench Sheets
Lite Piles
Sheet Piles
Struts
Props
Frames
Steel Road Plates
Steel anti-slip Road plates
Lite-weight Polyethlyene
Road Plates
Sleepers
Handrail Edge Protection
Vehicle Fall Arrest System
Quick Release Shackles
Trench Extractors
Driving Caps
Ancillaries